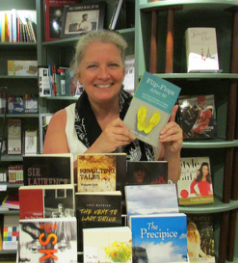 Here is a list of the local bookstores that are carrying my book. If you're outside of Connecticut, visit your independent bookstore and they can order the book for you. It's nice to support local businesses.
Byrd's Books
- Bethel, Conn.
Bank Street Book Nook
- New Milford, Conn.
House of Books
- Kent, Conn.
Hickory Stick Bookshop
- Washington Depot, Conn.
---
Or, to purchase an autographed copy, here's what to do:
Send me an email with your name, mailing address, number of copies and include any personal inscription info (name, special occasion, etc.) I will mail it out to you within a week (barring federal holidays, freak hailstorms or forgetfulness). The list price will include taxes and shipping and handling (about 20 bucks), but I'll let you know what that is first. Use the email button at the top of this page. Thank you!